Sandy Mae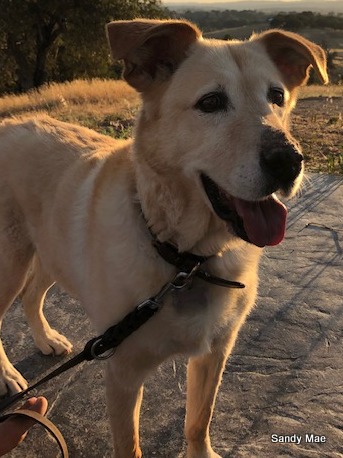 2018-02-01: We rescued Sandy Mae about 2 weeks ago (01/19/2018) from a very high kill shelter in North LA – Lancaster. We knew that she has severe skin issues because her nose was extremely crusty, her paw pads were very red and swelled, around the eyes she had a dark skin with missing fur and swelling. Her entire coat was in a bad shape. She had a medicated bath at the vet next day after she got out and the vet treated her for skin allergies based on the first visit. That vet bill was $500.00.
When she went in for a re-check a week later, the vet said she is suspecting that Sandy Mae has an autoimmune disease and we need to consult a specialist dermatologist. She was scheduled to see a dermatologist on 02/01/18. They had to put her under anesthesia so they can take samples of her skin from multiple sites and do biopsies, cytology, and fungal testing. The bill for this visit and testing is $1,181.58. After getting the results they will have to decide what type of medication she will need.
She had to wear a cone for these past 2 weeks every day because she is very itchy and keeps licking her skin and paws and that doesn't help with the healing process. One of her paw pads was so swollen that she was limping on that leg.
She is 9 years old and as sweet as she can be. She is very loved and cared by her foster mom. Her favorite thing is to just sit by the screen door in her foster home or the window and watch the squirrels playing in the backyard. She was obviously much neglected in her previous home and we really want to help her be healthy again and live happy from now on.
We need your support collecting the funds that we spent for her care. Please help us help Sandy Mae if you can. Any small amount you can spare to help Sandy Mae is much appreciated. Thank you.
2018-02-02 Update: Sandy Mae had a pretty rough day on yesterday being under anesthesia so the dermatologist could take tissue samples for biopsies. One of her front paws is very swollen as a result. She has to continue to wear the cone but her foster mom got her a soft cone to be more comfortable with it. They started giving her steroid medication and we'll get the biopsy results in about 2 weeks. Please contribute to her bills if you can. Give up one day of your Starbucks coffee for a good cause. Any amount helps us rescue more dogs like her.
2018-02-08 Update:Sandy Mae is feeling a little better and her foster parents took her for a visit to Home Depot. She really enjoyed that. Dermatologist office called that she tested positive for ringworm but we are still waiting for the biopsy results (they said it takes about 2 weeks).
Thank you SO MUCH to everyone that made a donation toward this sweet girl's care. We are very close to our goal now and REALLY appreciate your help and support.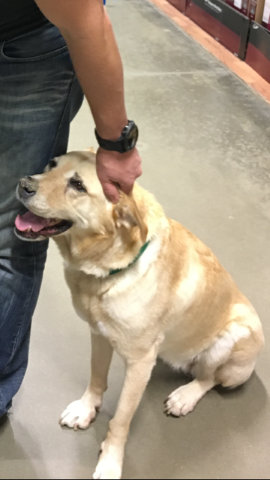 2018-02-12 Sandy got her biopsy results back, she tested negative on ringworms but she got diagnosed with pemphigus foliaceus which is an autoimmune disease. Sandy is making slow progress and her eyes and paws are getting better. Her nose looks still rough but she is not limping anymore. Sandy loves walks and likes to hunt squirrels and all other small critters.
---
Please help support this senior Lab's recovery by making a contribution in her name to our Senior Lab Rescue Program Fund. SCLRR started this fund as a resource devoted exclusively toward the rescue, rehabilitation and unexpected medical care of our older foster dogs. Your financial support is essential in providing these deserving Labs with a second chance at life with a loving family. The Senior Lab Rescue Program Fund is dependent on your donations. We are a federally recognized non-profit tax exempt group. Any donations to us, whether to SCLRR or to SCLRR'S Senior Lab Rescue Program Fund, are tax deductible.