Boy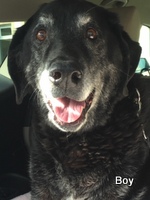 2017-11-03: Meet Boy, our newest hospice dog. He is 12 yrs old and ended up in a local shelter through no fault of his own. He was severely neglected with many masses all over his body, missing patches of hair from untreated allergies, and few warts inside his ears. Few of the masses were the size of a grapefruit, it must have been really uncomfortable to live with these. We knew at his age and physical condition it would be impossible to get him adopted so we did a plea to our volunteers to find him a hospice home. Happy to report that we found him a great hospice foster with one of the most loving ladies out there. Senior dogs are her life.
We rescued him out of the shelter on October 30th at the last minute and took him to see our favorite vet. He had blood work done and chest X-rays and all looked good. We were really worried about his lumps and we had them removed. Turns out that 4 of 5 were fatty lumps but a big one on his back is cancer.
He might have some good months ahead of him, the vet thinks that the tumor will most likely come back in the same spot. We know that his time might not be very long with us but he could surprise us and have few good years ahead of him. We can only hope that he will know what love is before crossing the Rainbow Bridge.
He was released from the vet on November 2nd and currently enjoying living inside a home and a warm, cozy bed. He has the sweetest personality, likes to follow his foster mom around the house and puts his head in her lap. He gently kisses her like he wants to say thank you for saving me. He will not refuse any belly rubs either.
The cost of his procedures so far was over $1500.00.
If you would like to make a donation to SCLRR in Boy's name for the cost of his surgeries and care, Click Here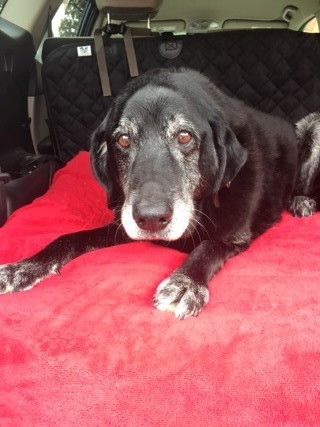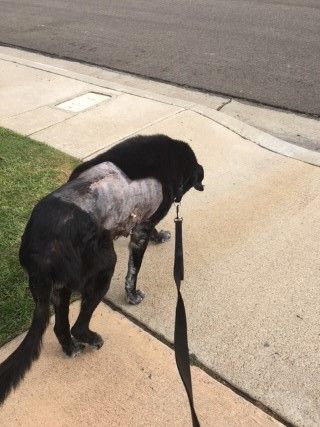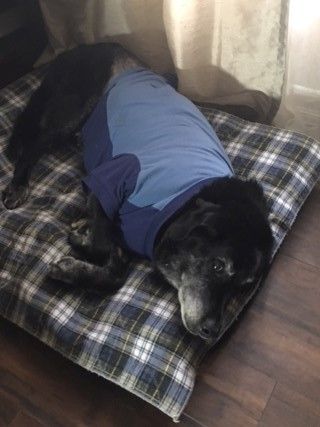 ---
Please help support this senior Lab's recovery by making a contribution in his name to our Senior Lab Rescue Program Fund. SCLRR started this fund as a resource devoted exclusively toward the rescue, rehabilitation and unexpected medical care of our older foster dogs. Your financial support is essential in providing these deserving Labs with a second chance at life with a loving family. The Senior Lab Rescue Program Fund is dependent on your donations. We are a federally recognized non-profit tax exempt group. Any donations to us, whether to SCLRR or to SCLRR'S Senior Lab Rescue Program Fund, are tax deductible.